International
Southern Pine
Blue Water Lumber ships our native Southern Pine (pinus palustris, taeda, elliottii, echinata, etc.) to Europe, Asia, Africa, Mexico and the Caribbean Islands.
Our capabilities include bulk shipments, containers and flat racks. Customers can expect not only competitive prices, but also the exact grade and dimensions that they need.
Construction, millwork, furniture and packaging companies routinely use our lumber and panel products.
From speaking Spanish to metric conversions, we are here to make your order a simple and easy process.
We are committed to the mills that supply us. Our customers depend on the quality and service of the best manufacturers.
In addition to pine, we also ship Cedar, Cypress and Southern Hardwoods.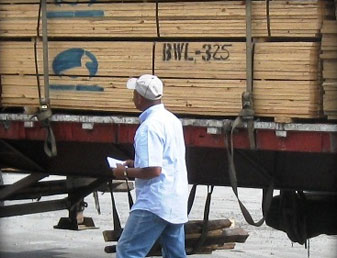 LOCATIONS
Blue Water Lumber
PO Box 1224
25325 Highway 98
Daphne, AL 36526
Ph: (251) 621-9633
Blue Water Lumber
600 Western Drive
Mobile, Alabama 36607
Hattiesburg Showroom
16 Bellegrass Blvd
Hattiesburg, MS 39402
Pensacola Showroom
32 North Palafox
Pensacola, FL 32502