Baydeck™ is a story of survival of the fittest
After the original Baydeck pier was installed in 2001, Hurricane Georges came through and Baydeck was still standing. Then Ivan came and went but Baydeck stayed. Then came Dennis and Katrina.

In 2005, Blue Water Lumber teamed with the engineer that designed Baydeck and started production and distribution. Since then, hundreds of waterfront owners have chosen to use Baydeck and they continue to enjoy those piers today.
Baydeck is made from the highest grade of Southern Yellow Pine and pressure treated to resist decay. It comes in 10 pc bundles that are easy to handle.
The cost is slightly higher than conventional radius edge decking, but owners recognize that it is well worth it when you don't have to replace your deck boards after every storm.
Watch the video below of how Baydeck works compared to traditional pier decking.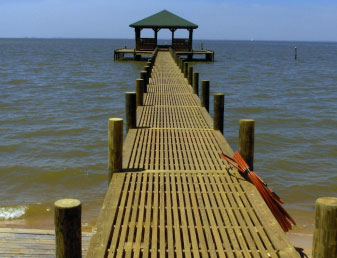 LOCATIONS
Blue Water Lumber
PO Box 1224
25325 Highway 98
Daphne, AL 36526
Ph: (251) 621-9633
Blue Water Lumber
600 Western Drive
Mobile, Alabama 36607
Hattiesburg Showroom
16 Bellegrass Blvd
Hattiesburg, MS 39402
Pensacola Showroom
32 North Palafox
Pensacola, FL 32502